There does not appear to be a large number of deaf people in politics, at least not publicly. One theory is that there's too much stigma still around hearing loss. There's also the perception that if you can't hear you won't be able to do the job.
That said, we've put together a list of a few influential deaf people involved in the political arena around the world.
Rachel Arfa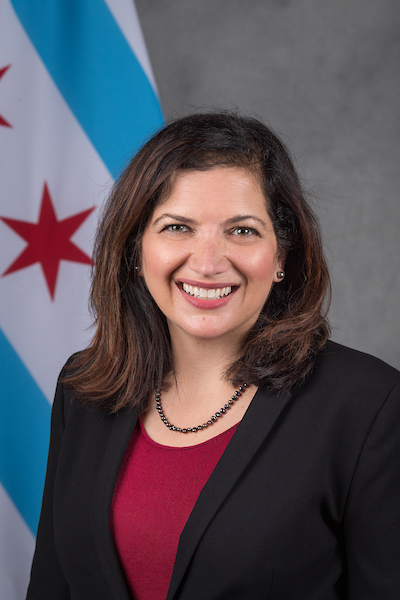 A Chicago native and deaf attorney, Rachel Arfa is the first deaf commissioner for the Mayor's Office of People with Disabilities (MOPD), based in Chicago. She was appointed in June 2020. She is well known as an advocate for accessibility in the political and legal systems as well as cultural spaces, according to CBSN Chicago.
Previously she also served as a project manager for the Illinois Americans with Disabilities Act project, and served as president of the Deaf and Hard of Hearing Bar Association. Arfa once made the motion for 10 deaf and hard of hearing attorneys to be admitted to the U.S. Supreme Court Bar.
She is now the highest ranking deaf person to serve in a city government leadership role.
Arfa graduated from the University of Michigan with a bachelors in American Culture and later from the University of Wisconsin School of Law with a J.D.
Jack Ashley
Jack Ashley, also known as Lord Ashley of Stoke, was elected as a member of Parliament (MP) for Stoke-on-Trent in 1966. The following year at the age of 45, he had a routine ear operation which left him profoundly deaf.
Many expected him to abandon politics. Instead, he taught himself to lipread and became the UK's first completely deaf MP. Both his peers and political opponents accommodated him in debates by facing him when speaking and providing visual cues.
Ashley founded the All Party Parliamentary Disability Group in 1968. He also worked outside of politics advocating and fighting for disability rights, with a strong push for the deaf and blind. Ashley also became the president of Action on Hearing Loss (formerly Royal National Institute for Deaf People). He co-founded Deafness Research UK in 1985 with his wife, also a fierce advocate for the deaf and blind.
While in Parliament, Ashley championed for and brought about much needed change and enhancements with anti-discrimination legislation for people with disabilities. After he retired as an MP, he got a cochlear implant. He passed away in 2012 at the age of 89.
Amanda Folendorf
Amanda Folendorf was elected mayor of an incorporated town in Northern California called Angels Camp in 2018. Her distinction is being the first Deaf female mayor in the United States.
She was raised and mainstreamed in school. She was not diagnosed as deaf until she was seven years old, when she was no longer able to hide her ability to fake her way through conversations, relying on lipreading. Fitted with hearing aids right away, Folendorf received speech therapy.
In her junior year of high school, a counselor introduced her to Gallaudet University, where she entered the New Signers Program in 2004. After Gallaudet, Folendorf attended Sacramento State University, graduating in 2009 with a degree in political science. During her time there, she interned with a number of legislative offices.
Her family and community inspired her to get involved in politics by their own history of civil services and their ongoing legacy of caring for the local community. Being involved in the Deaf community of Sacramento gained Folendorf access to mentors who helped her discover who she is as a Deaf individual. She also learned about grassroots advocacy. Folendorf was Ms. Deaf California between 2007-2009. She represented the California Association of the Deaf (CAD), later becoming the youth director and being more involved with bringing change to the Deaf community.
"I don't think just being deaf has brought me challenges," Folendorf told Rewire. "I find myself having more challenges with being a female and my age. Being deaf is part of who I am, but it is not the main challenge I have."
In 2020, she was elected as Calaveras County Supervisor for District 4.
Gary Malkowski
Gary Malkowski is Canada's first deaf Parliamentarian. He served between 1990-1995 and was the first to address the Canadian Legislature in ASL.
Growing up, he attended the E.C. Drury School of the Deaf in Ontario. Later, he attended Gallaudet University, where he received a Bachelor of Arts in psychology and social work. He later received his Master's in rehabilitation counseling. Malkowski then returned to Canada, where he worked as a vocational rehabilitation counselor at the Canadian Hearing Society. He took on a teaching position at a local college and was involved in advocacy and government protests.
The first law passed after his election to Parliament was to permit sign language interpreters to stand on the floor of the legislature. He introduced bills to recognize ASL and LSQ (Langue des signes québécoise, the official French sign language of Quebec). He worked on other bills to help provide accommodations and improve the lives of deaf people in Ontario. In 2004, he campaigned for movie theaters to install captioning systems for deaf customers.
Malkowski's work helped set up the basis for the Accessibility for Ontarians with Disabilities Act that passed in 2005. In August 2020, a biography, Deaf Politician: The Gary Malkowski Story was released. He currently is special advisor to the president of the Canadian Hearing Society and a public speaker and consultant.
Mojo Mathers
Mojo Mathers was elected to Parliament in 2011, becoming New Zealand's first Deaf MP. Before her election, she was a senior policy advisor to the Green Party between 2006 and 2011.
Mathers was born profoundly deaf in London. She grew up as an avid lipreader and began to use sign language more in the late 2000s. She has an Honors degree in mathematics and a Master's degree in conservation forestry.
In 2012, Parliament approved funding to provide her with notetakers. A plan to develop a captioning service to make proceedings more accessible was also approved. There was criticism that it took so long to put these measures in place.
"It's the reality of the situation for people with disabilities that it takes time to change attitudes and time to improve people's understanding of what real inclusion means," Mathers told the NZ Herald.
Mathers lost her seat in 2017. In 2019, she started working as a policy advisor for Disabled Person's Assembly of New Zealand.
David McKinley
David McKinley is a U.S. Representative, elected in 2010. The Republican serves the first district of West Virginia. He was 29 years old when he was diagnosed with audio sclerosis. Calcium deposits on the inner ear led to hearing loss. He heard nothing on his left side for over 35 years.
Eventually, McKinley received a cochlear implant. His goal is to help others overcome the challenges of hearing loss.
"I enjoy being the poster child for not being defeated by this," McKinley told the Charleston Gazette-Mail.
As co-chairman of the Congressional Hearing Health Caucus, McKinley hopes that one day Medicare will cover hearing aids and eye glasses. He believes that eliminating wasteful spending can make that possible.
Read more: Haben Girma: The story of a Deafblind trailblazer
Ashura Michael
Ashura Michael was the first deaf person elected to be Speaker of the East African Youth Parliament. She is setting herself up to enter politics in the 2022 Kenya General Election.
Michael holds a Bachelor of Arts in Gender and Development and is pursuing a Bachelor's degree in Law, both from the University of Nairobi. Originally denied entry into law school because of her deafness and not sitting for the national exams in her high school, she successfully lobbied hard to get in. She was named one of 2020's most influential Kenyans in the category of Leadership and Governance.
Michael defines herself as a deaf human rights and gender activist. She is a member of the Orange Democratic Movement, the official opposition party in Kenya. "My ambition is to be the first deaf woman legislator," she told the Friedrich Naumann Foundation.
"My ambition is to be the first deaf woman legislator."
Honorable Wilma Newhoudt-Druchen
The Honorable Wilma Newhoudt-Druchen was the first deaf woman elected to South Africa Parliament in 1999 as part of the African National Congress. She communicates in Parliament using sign language and has two interpreters on the floor.
As a child she attended the Dominican School for the Deaf in Cape Town before transferring to a girl's catholic school. Newhoudt-Druchen received a scholarship in 1988 to attend Gallaudet University. She also benefitted from donated funds from the deaf community in Cape Town. She received her Bachelor's degree from in social work in 1992, and earned her Master's in 2005. In 1994, she returned to Cape Town and became a social worker for the Deaf Community of Cape Town (a local organization) and later the Provincial Director for the Deaf Federation of South Africa.
From 2007-2015, Newhoudt-Druchen served on the board of the World Federation of the Deaf. She was its vice president from 2011-2015. As a member of Parliament, she championed for deaf people's rights fighting to improve accessibility of the media with more sign language and subtitles.
Wilma is currently an MP in the National Assembly. She serves in the Portfolio Committee on Justice and Correctional Services. Her goal this term is to legally recognize South African sign language as the 12th official language in South Africa. She is still involved with the Deaf Federation of South Africa and on the Gallaudet Board of Trustees.
Emma Nicolson
Emma Nicolson was elected as MP for Torridge and West Devon. She was born 80 percent deaf. When she was 11, she suffered partial vision loss. After being diagnosed as deaf at age 16, she was fitted with hearing aids. As a student, Nicolson attended St. Mary's School, Wantage and the Royal Academy of Music.
In her early career, Nicolson was a computer programmer between 1962-1974. Next, she was the Director of Fundraising at Save the Children Fund between 1974-1985, where she helped launch a polio immunization program.
"My poor mother suffered very bad measles when she was pregnant with me and, really, that is why I was born acutely deaf," she told Politico. Politics is a rough old game and, having such a disability, has been very difficult at times."
Elected to Parliament as a Conservative MP,  there was controversy when in 1995 she defected to the Liberal Democrats. She resigned as the Liberal Democrat whip in 2016 to sit as a non-affiliated member and then rejoined the Conservative party. She says she largely overcame her disability in Parliament by learning to lipread.