Artist reimagines Disney princesses, superheroes with hearing aids
Posted On November 6, 2017
---
Jeana Chavez's passion for art started from a young age. With supportive parents, her creativity has shone through education, career and her art hobby. Creating masterpieces to inspire others, it highlights her passion to break down stigmas around hearing loss.
Outside from her day job, as a Buyer and Merchandiser for a Sunglass and Optical company, Jeana spends her spare time painting and creating illustrations.
"Art is a huge part of my identity and has always played a huge role in my life. I've been lucky to incorporate my art in everything I do," she says.
Discovering signs of hearing loss in university
Jeana attended San Diego State University a decade ago. During her lectures, she felt the need to sit closer and found it difficult to understand her professors.
"I started recording my lectures and listened to them in my free time, trying to piece together what they were saying," she says.
Also, she noticed that social situations were becoming a challenge, more so trying to have a conversation in noisy places and group situations. When she would meet people, she would have to ask them to repeat themselves because she couldn't understand them. Unfortunately, she felt that staying at home was an easier than going out in social situations.
Read more: This is how to get FREE technology at your university
Getting her first pair of hearing aids
After a visit to the doctor's office to check out her hearing, she was diagnosed with a mild hearing loss in one ear and moderate in the other. She was fitted with hearing aids.
"I'm thankful I found the best audiologist who I see on a regular basis. It was important for me to find good hearing aids to better fit my lifestyle," says Jeana.
"It was important for me to find good hearing aids to better fit my lifestyle."
Graduated with a BS degree, Jeana now lives with her husband and son in San Diego, California.
Her job involves interacting with customers on a daily basis. Technology advances with her hearing aids have made a huge difference with her everyday interactions. In particular, some elderly customers who wear hearing aids, wish to fit their glasses to work well around their hearing aids.
"Sharing the connection of wearing both glasses and hearing aids gives me the advantage of suiting their needs better," she says.
How her hearing loss inspires her art
Jeana's artwork specializes in watercolor paintings, acrylics and also digital art which she creates for family and friends. She realised that there is not a widespread representation for those who wear hearing aids in art. 
"I thought it would be cool to represent characters like Disney or Marvel wearing hearing aids, showing they are proud and capable of anything!" Jeana explained the inspiration behind her artwork.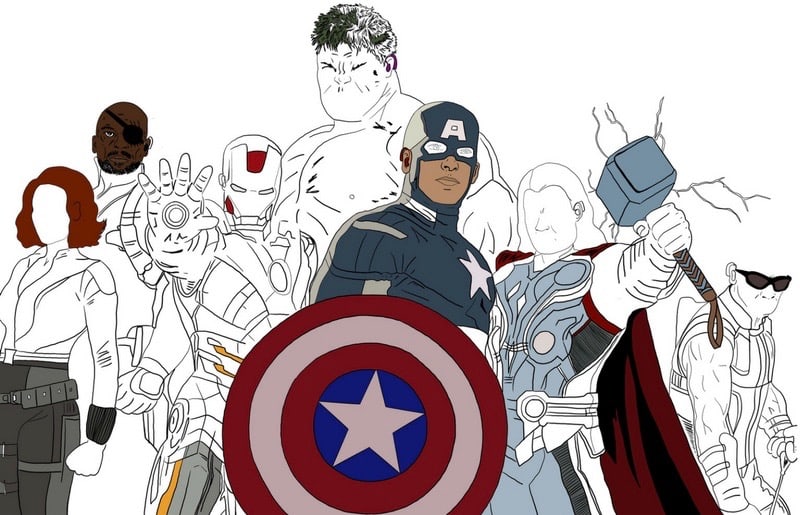 There is still unfortunately negative stigma around hearing aids. Jeana hopes that through her art, she will break down these stigmas.
"I would love to continue creating art that will bring awareness and attention to diversity and show that wearing hearing aids are cool! Just how glasses help those see better, hearing aids help people hear better. It's nothing to be embarrassed about," she says.
I would love to continue creating art that will bring awareness and attention to diversity and show that wearing hearing aids are cool!
Her friend, who is a deaf/hard-of-hearing teacher asked Jeana if she could create something for her classroom to inspire her students. "Dream Big" is her piece that features princesses wearing hearing aids, which was displayed on the wall for her students to see. She has received great feedback about these paintings and said that the girls were so excited to see princesses with hearing aids. 
"This only inspires me to create more pieces like this!" Jeana explains.
Advice that she has for other aspiring artists and deaf and hard of hearing people is,
"I would say never give up on your dreams. If there is something you love to do, don't wait for the right timing. You've got to do what your love, a little every day and opportunities will present. Put yourself out there, don't be afraid of failure."
To see more of her artwork, follow Jeana on Instagram: @jeanachavezart
Ellie was born profoundly deaf, uses verbal communication, lipreads and wears Phonak hearing aids. She is currently learning British Sign Language. Ellie hasn't let her disability stand in the way and embraces every new challenge. Her deafness didn't prevent her from achieving major accomplishments in her life, such as excelling in her education, working as a Marketing Executive for a Spa & Health Club, Events and Promotions Staff for a local newspaper as well as blogging for Hearing Like Me. She is passionate about deaf awareness, campaigning for equality and helping others through her personal blog as Deafie Blogger.
Latest posts by Ellie Parfitt (see all)
---
Trending Now